NaturalTherapyForAll Policy
The Verification Seal, found on the profile page of some practitioners listed in the NaturalTherapyForAll.com Therapist Directory, indicates that NaturalTherapyForAll has verified the following:
A relevant qualification and insurance cover, or

Proof of registration, or membership in a professional body or association.

When the registration passes our verification, we attach the NaturalTherapyForAll Verification Seal on the practitioner鈥檚 profile.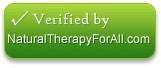 However, the lack of the Verification Seal on a practitioner's profile does not mean that the member is unqualified. It could merely be that the practitioner has only just registered and is awaiting verification, or that the registered practitioner has not as yet activated the account.
Users should be aware that the Verification Seal cannot serve as a guarantee or an indication of an implied guarantee that a particular practitioner listed on NaturalTherapyForAll.com is qualified to perform the disciplines as claimed. NaturalTherapyForAll does not guarantee the information supplied by the practitioners listed in this directory, and, consequently, this directory should never be used to verify the authenticity of the qualifications of practitioners.
All information displayed on a NaturalTherpyForAll profile is provided exclusively by the practitioner, and it is the sole responsibility of each professional listed to inform us of any changes, and, further, it is the sole responsibility of the customer to verify that the specific information is current and correct. We suggest that customers make their own checks if there is any doubt. When attending your first session, we also advise you to ask for proof of their qualifications, insurance cover, or membership in a professional body or association. Furthermore, NaturalTherapyForAll does not offer any guarantee with regard to the claimed competence of any practitioner listed on the site.
Please be aware that all information accessed through NaturalTherapyForAll concerning the listed practitioners, their experience and the services they offer is supplied by the practitioners themselves. NaturalTherapyForAll displays this information exactly as submitted, and cannot and will not be held responsible for any discrepancy or error contained in this information. It remains the sole responsibility of the practitioner to ensure that the information he submits for display is correct and truthful at all time.
It is solely the responsibility of the customer for all communications with any professional listed on NaturalTherapyForAll. We are not liable, and will not be held liable, for any decision made or action taken by a customer based on information displayed on NaturalTherapyForAll.com, and no liability whatsoever will be recognised by NaturalTherapyForAll in this regard.